Norman Pet Health Maintenance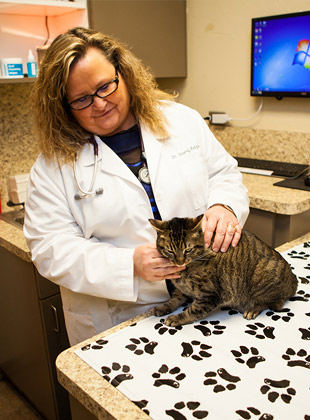 Internal Medicine
Despite the very best preventive care, animals can become sick. When this happens, it is stressful for both you and your pet, especially because you can't simply ask your companion what's wrong. You need a skilled veterinarian whom you can trust to accurately diagnose and effectively treat your pet.
While the focus at Rose Rock Veterinary Hospital and Pet Resort is your pet's wellness, we also have the technology and experience to provide quick and accurate diagnoses and non-surgical treatments for diseases that can affect your pet's internal organs and body systems. You can feel confident turning to Rose Rock Veterinary Hospital and Pet Resort if your pet needs medical assistance. The hospital's knowledgeable staff and modern facilities are equipped to handle a wide variety of medical conditions. Because we can perform many veterinary diagnostic procedures in-house, we can often give you immediate answers and start treating your pet right away.
Allergies and Skin Problems in Dogs and Cats
Skin problems are common in dogs and cats, and can be caused by hormonal disorders, allergies, infections or parasites such as fleas and mites. These issues can be particularly difficult to treat and should be addressed promptly.
The most common symptom associated with allergies is itching of the skin, either localized or generalized. Other symptoms include respiratory distress (coughing, sneezing and wheezing) or digestive problems causing vomiting, flatulence or diarrhea.
Symptoms of Pet Skin Allergy
It is important to be able to identify the first signs and symptoms of allergies and dermatological conditions. These include:
Scratching, licking, chewing or biting the skin, feet and ears
Red, raised, scaly areas on the skin
Bumps, crusts or pus filled vesicles on the skin
Increased skin pigmentation
Thickened skin
Loss of hair
Salivary staining (brown color)
Head shaking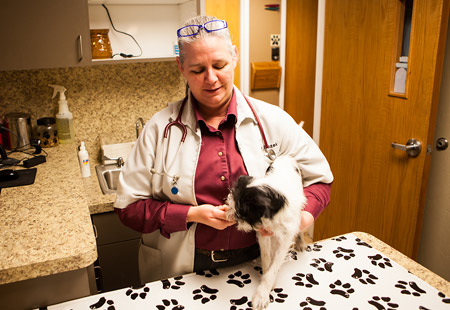 Osteoarthritis Management
Degenerative joint disease (arthritis) is the number one cause of chronic pain in dogs and cats. Arthritis is the result of long term stress on a joint, either from an old injury or from natural development of a poorly conformed joint. Surgery may be helpful for some situations; however, the majority of the time the degeneration of the joint cannot be reversed and treatment focuses on preventing the progression of the damage. There are a number of products available to medically manage arthritis, some can be combined with others and some cannot. It is known that arthritis pain is best managed by what is called a multi-modal approach, meaning that several approaches combined give better results than any single therapy. This may include medications, beneficial nutrient supplements, special diets, acupuncture and low level laser therapy. The approach we use to manage a pet's arthritis is individualized for that pet, paying attention to other disease processes that may be ongoing.
Norman Exotic Pet Medicine and Surgery
We are experienced in providing specialized veterinary care and treatment for exotic companion animals, including ferrets, gerbils, guinea pigs, hamsters, iguanas, rabbits, and snakes. The veterinarian understands your exotic pet's unique health needs and can provide diagnostic, therapeutic, and surgical services, as well as counseling on nutrition, behavior, and general care.
Hospitalization
We know your pet will feel more at ease with you at home, but sometimes sick patients need services that can only be performed in the hospital. We strive to keep the length of hospital stays as brief as possible.
While in the hospital your pet will be in our hospital ward. If there is concern of contagious disease, he/she will stay in the isolation ward. Our wards are quiet and comfortable with soft linens. Cats are kept in comfortable condos and ambulatory dogs are walked several times a day. A veterinary nurse will monitor the condition of each patient and provide caring attention. We also have extended care staff that is available to monitor and care for your pet throughout most of the night.
Your pet's doctor will call you often to inform you of your pet's progress. Additionally, our veterinary technicians are available to answer any questions or concerns.
Loving Care for Your Pet