Rose Rock Pet Resort and Salon
Treat Your Dog to a Day of Fun at our Resort and Salon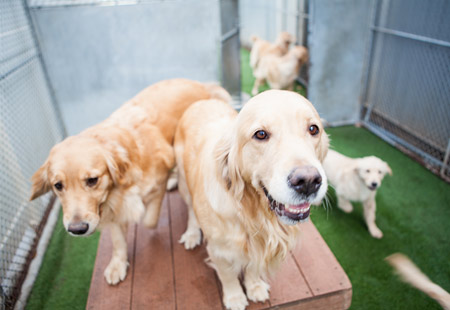 The foremost goal at Rose Rock Veterinary Hospital and Pet Resort is to provide a fun and cozy vacation for your pet while you are away. Our staff is dedicated to providing your pet with a safe, secure and loving environment. You can make a reservation for your pet at the Pet Resort online. Once you have made your reservation, please fill out our boarding questions form to expedite your pet's check-in.
Pet Boarding in Norman
All of Rose Rock Veterinary Hospital and Pet Resort's guests are provided with a cozy bed, premium pet food (Royal Canin Gastrointestinal Low Fat Diet or food brought by you) and are fed twice daily (or as per your requested feeding schedule). Fresh water is available to your pet at all times, and soothing music is played throughout the day to make your pet feel extra comfortable. We realize there is "no place like home," but we strive to duplicate the environment to which your pet is accustomed.
Dog Town
Canine guests are housed in cozy, private suites, and we have four different accommodations available for your pooch.
The Economy Suite is a climate controlled, indoor accommodation suited for the size of your pet. Dogs staying in the economy suite are exercised two to three times daily in a spacious 60 square foot outdoor area.
The Luxury Suite is also a climate controlled, indoor accommodation, but it is twice the size of the largest economy suite; either a 3'x12' or 4'x12' suite. Dogs staying in the luxury suite are exercised twice daily in a spacious 60 square foot outdoor area.
The Bark Park is a specialized accommodation for petite, social dogs. To stay in the Bark Park, dogs must weigh 30 pounds or less, must be spayed/neutered if over six months of age, and must pass a temperament test to ensure that group play is the right choice for them. During the day, the dogs spend the majority of their time in an inside grass park, but also have outdoor play sessions. During these times, the dogs are allowed to interact and play with each other, with constant supervision from an experienced resort attendant. During feeding time, nap time, and at night, the dogs stay in spacious, private accommodations.
The Villas provide a home-like atmosphere, with a television available for your pet to watch the Disney channel. In addition, our villa residents receive individual cuddle time and are exercised in our enclosed, turf yard three times per day.
Individual playtime activities are also available in a large, 200 square foot outdoor play area for a minimal fee. No matter which type of accommodations you choose for your pooch, rest assured that he or she will be comfortable, happy and well cared for at Rose Rock Pet Resort.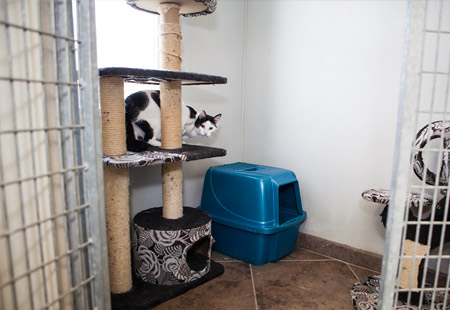 Kitty City
Feline guests have the choice of three different accommodations:
The Economy Condo is designed specifically for felines, and is located in our climate controlled facility.
The Master Condo is the same size as the economy, but offers a window perch for outdoor viewing, including bird-watching.
The Luxury Condo is like the master, but has an additional, separate room that serves as a sleeping area, and also includes a window perch for outdoor viewing, including bird-watching.
For a small fee, a playroom is available for our adventurous or leisure kitty guests to enjoy.
Special Pet Resort Services
We offer several other special services for a minimal nightly fee:
Extra Plush Bed
Massage
Dry Deck (Special flooring that provides extra traction for senior dogs, or any dog that has a hard time getting around.)
Tender Loving Care Package (Includes playtime or leisure stroll for senior guests, extra plush bedding, dry deck (if needed), and a 10 minute massage.)
Fitness Package (Includes 15 minutes of cardiovascular and core strengthening (can be the use of treadmill, fitness balls, or playing fetch.)
Please see the boarding prices document for pricing and additional information.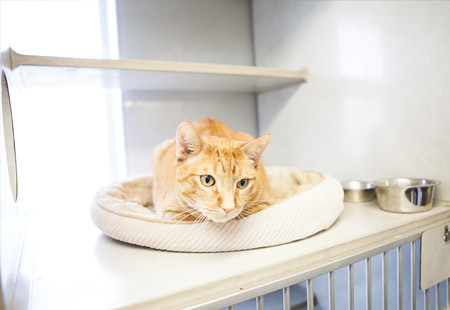 Pet Boarding Requirements
For your pet's safety and the safety of all our guests, written proof of vaccination administered by a veterinarian is required upon entry. Owner or breeder administered vaccinations are not acceptable. If proof is not presented, required vaccines will be given at the owner's expense.
Vaccines required:
For Dogs:
DHPP current as dictated by veterinarian that administered vaccine. Puppies less than four months must have at least two DHPP vaccines.
Bordetella within the last 12 months.
Rabies current as dictated by vaccine used.
For Cats:
FVRCP (Feline distemper, rhinotracheitis, calicivirus, and pneumonitits) current as dictated by veterinarian that administered the vaccine. Kittens less than 4 months must have at least two FVRCP vaccines.
Rabies current as dictated by vaccine used.
Please remember to bring proof of vaccinations. If your pet is in need of any required vaccination, we would be happy to immunize your pet upon check in. If possible, it is best to have your pet vaccinated at least two weeks prior to visit. All guests will be examined for fleas and ticks upon entry and, if necessary, a flea treatment will be done for an additional fee.
Reservations are advisable, especially during holiday or peak seasons. To extend courtesy to all our guests, we have a 24 hour cancellation policy. A fee is applied to cancellations of less than 24 hours. If your return date or time changes, please notify us as soon as possible.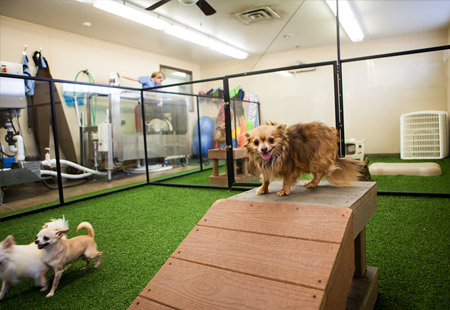 Discounted Services
Pet Resort Loyalty Program
The Resort Loyalty Program shows appreciation and rewards those clients that choose us for their Norman pet's boarding services frequently. We will give you a punch card and each time your pet stays three nights or more at the resort during one visit you will get a punch on your card. Once the card has all the punches required, your pet will receive a three-night stay for free. Ask about this program at your pet's next boarding visit.
Multiple pet and extended stay discounts are available. For more information, please refer to the boarding prices document above, or talk to one of our team members.
Drop-Off Service
We understand that you maintain a busy schedule. We do everything we can to simplify your life as a pet owner. To assist you, we offer a drop off service so you can leave your pet as early as 7:30 a.m. and pick up as late as 7:30 p.m. For weekend travelers, we also offer a Sunday pick-up for your pet at 6 p.m. (unless the Sunday falls on a holiday). In order to use this service, we do charge for Sunday night's stay and ask that you pre-pay.
Full Pet Grooming Services
Rose Rock Pet Resort and Salon offers full grooming services for both dogs and cats.
Professional grooming is available to give your dog that special look. We do comb outs, scissor cuts, stripping and shaving—whatever is optimal for your special pet. Grooming is available Monday through Friday, 8:00 a.m. to 5:00 p.m. and Saturday from 8:00 a.m. to 3:00 p.m. by appointment.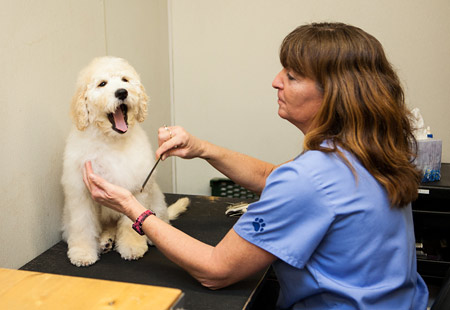 Our professional groomers enjoy working with dogs and cats and have a great talent of making them look and feel their best. We do not use sedatives; however, if a sedative helps make your pet's experience more comfortable, we do have veterinarians available to provide sedation or anesthesia as needed. Contact us for more details about grooming your pet!
Pet Spa Treatments
You may choose from a selection of pet spa treatments such as:
Pet Pedicures
Cleansing Baths
Flea / Tick Baths and Dips
Seasonal Total Clips
Medicated Baths for Skin or Allergy Problems
Whatever service you choose, your pet will be relaxed and comfortable during his or her visit—and will leave sparkling clean, rested and happy!
Loving Care for Your Pet